Club Geisler-Moroder
Advantages and benefits for members
Many students have been members of the Club Geisler-Moroder for several years and are thus benefiting from numerous benefits. Everyone can join our club. The annual club year starts on the 1st of January and ends on the 31st of December. For payment, simply ask us for our bank wire transfer number or debit authorization. For this please let us know the name of your bank, the Bank Code Number / BIC and the account number / IBAN.
It is also possible to join the club at any time during the year. You do not have to wait until 2018 if you did not pay the fee by 31.01.2017. In this case, you only have to pay the contribution for the following year and can thus enjoy all advantages from the time the deposit is received into our account until 31.12.2018.
This rule also applies to future contributions: either you pay the annual contribution by 31.01. of the year in which you want to take advantage of the benefits, or you pay the contribution for the current and the following year and benefit immediately from the great benefits for both years. For the year 2017 € 64, - / spouse rate € 96, -. In the case of course and accommodation bookings, the membership fee must be paid BEFORE signing up, so that we can credit you the discounts!
Current "KNÜPPELs" Newsletter download (German only)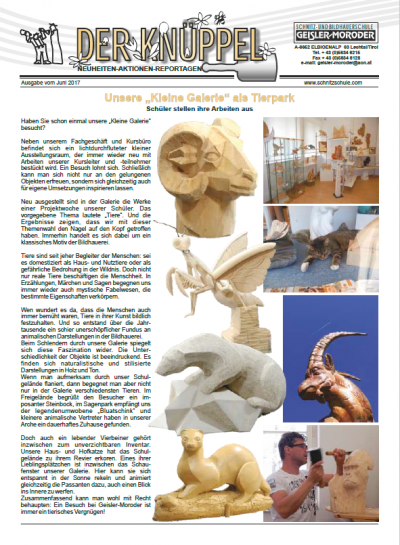 Find all your benefits as a Club Geisler-Moroder member here at a glance:
✓ Free Club Newsletter "Der Knüppel"Club
✓ Club specials
✓ Club card
✓ 5 % discount on all courese, accomodation and board (when you book directly with us)
✓ 5 % discount on all products from the PreCarve shop: tools, books, chisels, paint and artist supplies ...
✓ 10 % discount on rough outs from our PreCarve shop
✓ discounted Last-Minute-Specials
✓ ongoing Club Specials online
✓ and many other benefits …